Light weight and stability needn't be mutually exclusive. This is demonstrated by the new tubular handles that D-Beschlag has now produced for a series of handles in its product range already featured in solid steel. The driving factor behind this development was the weight that fittings need to reduce at wall-unit level and make handling easier for the customer.
D-Beschlag met this demand with its own ambition to achieve at least the same level of stability as handles made of solid material. It has managed to do this with sturdy material walls and a design principle established at the production facility in Luckenwalde that firmly connects the tubes – even over long lengths – with two or even three feet.
At Sicam, D-Beschlag will be showcasing the weight-saving and quality of these tubular handles for its visitors on stand A 34 in hall 9. Then, it will also be about convincing even more customers of the new lightweight approach.
Images in high resolution
Please, click on the thumbnail for pictures in high resolution format.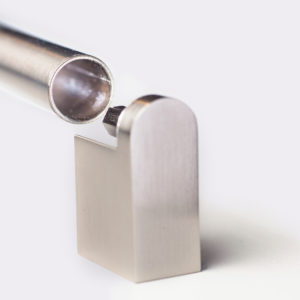 Caption: Light weight and stability needn't be mutually exclusive. This is demonstrated by the new tubular handles that D-Beschlag has now produced for a series of handles in its product range already featured in solid steel. Photo: D-Beschlag