Basys – Bartels Systembeschläge based in Kalletal – has again won an innovation prize for its concealed hinge that closes doors gently and automatically. On the eve of the imm Cologne 2018 trade fair, Manager Jürgen Bartels received the "Iconic Award: Innovative Interior" in the building equipment category. The award honours the best in all areas of interior design. It takes into consideration and evaluates the objects in their interplay and design in the context of interior design. The results serve as a trend barometer for the entire furnishing industry.

The expert jury selected the winners of the "Iconic Awards: Innovative Interior 2018" from approximately 500 products. 30 products were awarded the highest accolade, "best of best", one of which was the "Pivota DXS 101 3-D Close" from Basys. The innovation is a solution to all of the problems that used to be associated with developing this type of hinge. The additional components not only adapt to the concealed system. The hinge also remains fully functional: it can be adjusted in three dimensions and enables the door to be opened to an angle of 180 degrees. In this state, the door remains open; the self-closing mechanism is only activated from an opening angle of approximately 110 degrees. Developing the new solution, Basys placed the focus on doors weighing up to 80 kg.
The "Pivota DX Close" is equipped with a steel joint and interconnected lock barrel that disappears into the door rebate in the same way as the hinge. The system thus works entirely hidden from view when the door automatically closes. The lock barrel pulls on the joint in a controlled action. For greater safety and an added feel of luxury, the mechanism – which manages without a separate door closer – slows the door down before it gently locks.
The aim of the "Iconic Awards: Innovative Interior" is to discover and recognize the best in all areas of interior design. They pursue a holistic design standard, which the German Design Council has championed for over 60 years. Initiated by the German Government and sponsored by German industry, their task is to promote quality of life through good design in all areas.
As justification for the award of the concealed hinge by Basys, the jury stated "An ingenious solution that provides elegant protection for automatic locking mechanisms on the insides of doors weighing up to 80 kg." Among other aspects, the criteria utility value, overall concept, functionality and usability, design quality, degree of innovation, service life, product aesthetics, safety and accessibility all played a role.
Basys had already been awarded the "Innovation Prize for Architecture and Construction" for the "Pivota DXS 101 3-D Close" concealed hinge back at the BAU 2017 trade fair in Munich.
Images in high resolution
Please, click on the thumbnail for pictures in high resolution format.
Caption 1: For the second time, a jury has honoured the "Pivota DXS 101 3-D Close" concealed hinge with self-closing mechanism, and thus the innovative strength of Basys – Bartels Systembeschläge. Photo: Basys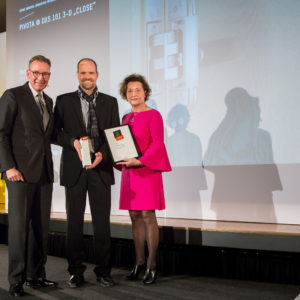 Caption 2: Jürgen Bartels (centre), Managing Director of Basys – Bartels Systembeschläge, accepts the "Iconic Award Innovative Interior best of best" from Andrej Kupetz (left), Managing Director of the German Design Council, and design journalist and jury member Barbara Friedrich (right) on 14th January 2018. Photo: Basys