At Interzum 2023 in Cologne, Schwinn's stand in Hall 7.1 will feature a furniture handle, a furniture knob, a hook and a wardrobe combined in design. The manufacturer relies on a flat, oval-shaped profile for continuity, which in its simplicity gives rise to creative decorative fitting ideas. 
"Rounded shapes" is the keyword with which the new product family from Schwinn scores. For furniture knobs and handles, the oval shape ensures a pleasant grip. Thanks to the edgeless design, hooks and coat racks can be hung up quickly and harmoniously.
Within the product family, everything is reduced to the essentials. The minimalist profile celebrates the art of leaving things out, which is precisely why it is recommended for a consistent furniture design.
Images in high resolution
Please, click on the thumbnail for pictures in high resolution format.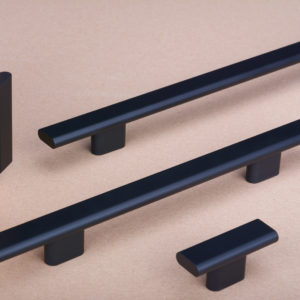 Caption: At Interzum, a furniture handle, a furniture knob, a hook and a coat rack are combined in design at the Schwinn stand. For the continuity, the manufacturer relies on a flat, oval-shaped profile, which in its simplicity gives rise to creative decorative fitting ideas. Photo: Schwinn